CAMPUS MAP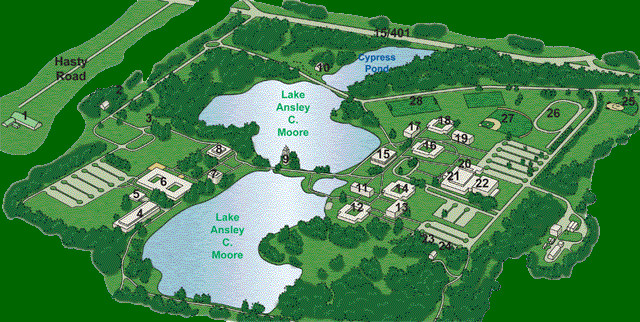 | | |
| --- | --- |
| 1. St. Andrews Equestrian Center | 15. William Henry Belk Center |
| 2. Scottish Heritage Center | 16. Orange Residence Hall |
| 3. Flora Macdonald Gardens | 17. Mecklenburg Residence Hall |
| 4. Morgan-Jones Science Center | 18. Pate Residence Hall |
| 5. Avinger Auditorium | 19.Winston-Salem Residence Hall |
| 6. James L. Morgan Liberal Arts Building | 20. Campus Safety and Security |
| 7. DeTamble Library | 21. Physical Education Center |
| 8. Vardell Building | 22. O'Herron Swimming Pool |
| 9. Katherine MacKay Belk Bell Tower | 23. Purchasing/Physical Plant |
| 10. Lake House | 24. Farrago |
| 11. Wilmington Residence Hall | 25. Softball Field |
| 12. Granville Residence Hall | 26. Track |
| 13. Concord Residence Hall | 27. Clark Baseball Field |
| 14. Albemarle Residence Hall | 28. Lacrosse and Soccer Field |
Keep Calm – Let Us Help
Do you know someone who may need our assistance? Anyone, including Professors, Coaches, Teammates, or Friends can reach out whether the concern is academic, social, spiritual, or you just have a feeling someone on campus may benefit from a helping hand. Fill out the Keep Calm form here.
Center for Academic Success Office Hours:
Monday – Friday 8:30 a.m. to 5 p.m.
Personnel for the Center for Academic Success
Robin Lea, Director
910-277-5149
learr@sa.edu
Sarah Hardy, CAS Coordinator of CAS Activities
910-277-5040
hardysa@sa.edu
The Office of Disability Services (also located in the CAS in Pate Hall)
Dr. Teresa M. Reynolds, Disability Services Coordinator
910-277-5667
reynoldstm@sa.edu
Sarah Hardy, Disability Services Program Assistant
910-277-5040
hardysa@sa.edu
BUSINESS OFFICE
Contact Us:
LaTanya Malone, Controller
maloneln@sa.edu
910-277-5230
Khourtnie Burns
Account Executive/Student Accountsburnskd@sa.edu
910-277-5225